Picture yourself seated in front of a canvas, holding a brush in your hand, ready to get started on your masterpiece. You look around and see your colleagues similarly poised as you are to start painting. It's different, seeing them out of the office and staring at something other than a computer. Nonetheless, it is a nice feeling, somewhat relaxing. Work is at the back of your mind as you creatively add delicate strokes of paint to your canvas. You've probably never imagined yourself as a painter, but why limit yourself? In this article, we will be sharing with you some of the benefits of corporate art workshops.
Refreshing, Therapeutic
Corporate Art Workshops are therapeutic and inspiring, which will make you more refreshed than before! An artistic break from work is perfect for improving your focus and concentration. Engaging the creative part of your mind is great, broadening your thinking, which may come in useful for problem solving at work! No prior experience or art qualification is required. A curious mind and positive attitude is more than sufficient.
Team Bonding
What's even better about our Corporate Art Workshops (Art Jamming) is that it is perfect for team bonding. Participants are able to work in teams to complete a painting or they can work together to make a joint painting (i.e. 6 individual canvases form one picture). Team work and communication is key to achieving the final artwork in mind! There can be a theme for the day, with teams expressing their understanding of the theme through their art.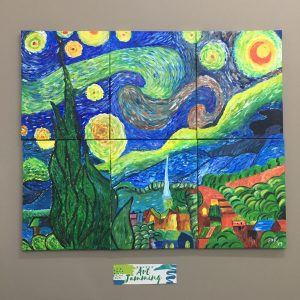 Not to fret if you are still hesitant about your art abilities! Our experienced art facilitator will encourage teams to discuss and work together. Simple and useful tips will be provided to guide participants on how to use art tools. There's no fixed guide on how to paint, let your creativity loose!
Over at Epic Workshops, we not only provide Corporate Art Workshops (Art Jamming), but other fun team bonding events too. We have a wide variety of crafty events (e.g. terrarium workshops) as well as outdoor activities (e.g. bubble soccer). Check out our website for our full list of activities offered. We hope to see you!