Whether you want to have fun and relax, build a strong team with your coworkers, or take a break from your busy life, Epic Workshops welcomes you to try out our Kokedama Workshop. It promises to be a creative and peaceful experience where you can make beautiful things with plants and moss. It's like a little escape where you can slow down and enjoy creating something lovely that brings nature into your space.
Let EPIC Workshops take you through a delightful and immersive journey into the wonderful world of Kokedama! Originated from the 17th century, A Kokedama essentially is a Japanese botanical art of creating living moss balls. The best part about the workshop, besides getting the hands-on experience of creating your own Kokedama or moss balls, would be the opportunity to explore your horticulture and creativity skills in a fun, relaxed and educational setting.
During the workshop, participants will get their hands dirty and embark on a hands-on adventure, where they will be introduced to the rich history and cultural significance of these Kokedama moss balls. Participants will also get an insight into the diverse plant species that they can include in these moss balls, discovering the versatility of Kokedama as both a horticultural and decorative piece.
Kokedama Workshop Details
Group Size
Minimum of 2 people to start the workshop! Grab your friend to join you!
Duration
Our kokedama workshop can take up to 1.5 hours.
Materials Provided
Moss

Soil-Akadama Mix

Plant

Gloves
Take Exit B from Marymount MRT and walk towards MAPEX building. Proceed to the third floor via the lift and exit through 2 doors on the right to the carpark. We are located right at the end!
Our workshop will have a main trainer with a few facilitators. The number of facilitators will depend on the number of participants within a workshop setting. Each trainer or facilitator will be assigned to a few participants during the workshop to ensure that full guidance and assistance is provided.
Suitable for people of all ages. Children below the age of 10 are advised to come with a guardian for supervision.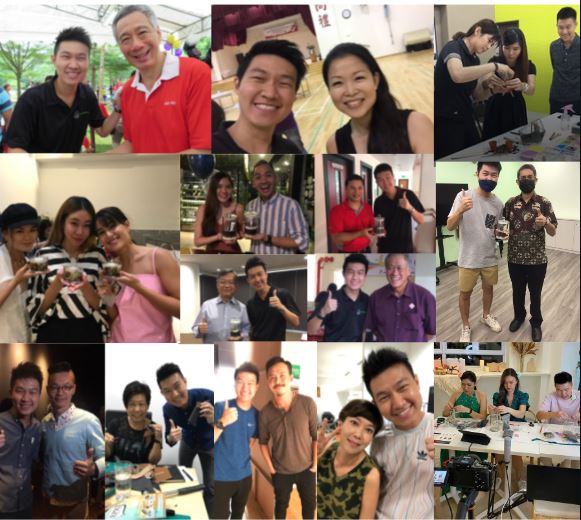 Well-known name in Singapore and loved by 1200+ organisations

Worked with more than 860,000 participants

More than a dozen of engaging team bonding games

Many medium and small businesses in Singapore rely on us

We have served many multinational companies

Served multiple Singaporean authorities

Multiple good reviews from our lovely participants
Benefits of Kokedama Workshop
Creativity
Kokedama seminars give participants a creative opportunity for expressing themselves. Making these distinctive moss balls gives people the chance to customize their works with various flora, patterns, and decorative accents, encouraging a sense of artistic achievement and self-expression.
Stress-reduction & Mindfulness
Hands-on
activities
like crafting Kokedama can help people unwind and practice mindfulness. Working with plants and soil may be a soothing experience that encourages individuals to let go of tension and be in the now, both of which are good for general wellbeing.
Closer to nature
Due to the fact that participants work with living plants, they provide a close connection to nature. Particularly for people who may not have a green thumb or much gardening experience, this experience can improve one's awareness of the natural world and provide one a sense of contentment and fulfillment.
Trusted by 1200+ Companies
From SMEs to MNCs and Government Agencies trust EPIC. We've engaged more than 860,000+ participants! Choose from our wide variety of 15 indoor team building activities.

Our process is simple and transparent
Select From Pre Available Options for Customizing Your Own Workshop Package.
Choose times that work best for your team.
Show up on the day of the workshop and leave all the technicalities to us.
Gemstone Soap Making Workshop caters to
First discovered in 17th century Japan, Kokedamas is a Japanese gardening method where the roots of your selected plants are covered with moss, a special soil mix and frequently suspended in the air or put in decorative plant pots.
How many Kokedamas can participants make?
The duration entails for participants to make 1 Kokedama.
What is the duration of Kokedama workshop?
The duration of the Kokedama workshop is 1.5 hour workshop.
Why choose EPIC Workshops' Kokedama workshop?
Our trainers have many years of experience working with plants and understand the needs and proper maintenance of plant care to ensure that you have a beautiful, yet healthy & thriving kokedama piece. You can be assured that you are in safe hands with our expert guidance & facilitation
How can I care for my Kokedama?
Caring for your kokedama depends largely on your choice of plant. Generally, we would recommend the following care tips:
Check if the ball is dry ( after 5 Days )
If Dry, soak Kokedama in a bowl of water. Ensure the Soil ball is fully submerged.
Soak for 15 Minutes.
After soaking, Squeeze lightly to ensure no liquid is dripping.
Repeat the process every 5 Days!
How do I engage EPIC Workshops for my company's team building event or for my private gathering (hens party, birthday parties)
GIVE US YOUR BASIC INFORMATION
Why choose our Kokedama Workshop in Singapore?