EPIC Workshops Clay Art Making
EPIC Workshops Clay Art Making is a popular event that caters to all age groups. In this article, we'll be talking about what it entails and give you some ideas on how to get started with us! If you're wondering what Clay Art Making Workshop in Singapore is, it actually involves using clay to create all kinds of different art pieces. For example, this could be anything from flowers and dragons (like what you might find in a theme park) or even cute little cartoon characters like the ones above! There are no limits to your imagination-whatever you can think of, we can design it. So there really is no limit to your creativity! Participants will work together with us on ideas for the artwork that they would like to create during the session. You'll then get an initial introduction to the fundamentals of working with clay before getting started on creating your very own masterpiece! When using clay as a medium for art, there are different art forms you can try. There's three-dimensional sculpture, two-dimensional painting, and of course the very popular pottery which is fast gaining in popularity! So whatever kind of mood you are in or whatever ideas you have for your next project, just drop by our place to get started with us!
What is Clay Art Making?
Clay Art Making is a workshop by EPIC Workshops! At EPIC Workshops Clay Art Making session, you'll be mesmerized by our in-house artist who will perform a live demonstration right before your very eyes using tools and clay. Depending on your theme of choice, the artist will mould a suitable clay figurine!
Clay has been used by humans since the birth of civilization. It is considered to be one of the first materials that were ever used for pottery and other implements, respectively tools. Clay Art Making workshop in Singapore is based on potter's wheels, which are operating in different regions around the world. As well as traditional methods, modern techniques and tools are used too. It is also based on using clay and water, applying it to a form then pressing it into shape with the hands or the aid of utensils, then putting it in a kiln or oven to bake to make ceramic ware or pottery. There are different types of pottery to explore, but the most common types are food-related, which are mainly used for cooking purposes.
The use of clay is not limited to ceramics, it can be used for sculptures, models and just painting with exclusive clays that have different pigmentation. It can also be cast into resin or rubber molds to create various art pieces, such as jewelry, figurines, and many other items. Get your hands dirty at our workshop and learn how to make clay art. The experience begins with a demonstration by EPIC's master craftsman followed by the opportunity for you to create your own masterpiece. Learn about different tools, colors, sculpting techniques, finishing touches, and more during this 2-hour workshop. Participants of all ages are welcome! Bring your friends or come solo – it'll be an unforgettable evening of fun in the making!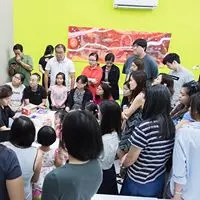 After the mini demonstration, participants will embark on a hands-on journey of making their own figurines from scratch. Coloured clay and tools will be given for participants to begin their creation.
Themes
Under the sea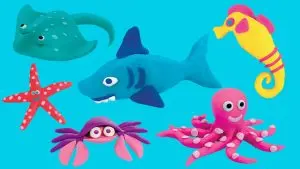 Photo: heraldsun.au
"Just look at the world around you, right here on the ocean floor. Such wonderful things surround you, what more are you looking for?" Following closely to Disney's Under The Sea-The Little Mermaid, there's a lot to explore under the sea. Build your own magnificent sea creatures!
Flower Power
Photo: Youtube
Haven't been to Gardens by the Bay? That's okay, you can make your own rendition using the flower power theme! Design your perfect blooms and be amazed at what you can create!
Zoo Animals
Photo: Youtube
Love animals? Take it to the next level by making your favourite animal into a clay figurine! These would make super cute collectables on your bedroom shelve, or simply just an added decor for your children's room.
4. Superheroes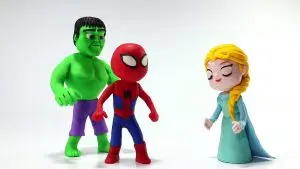 Photo: Dailymotion
Because not all Superheroes wear capes. Your superhero can be in the form of a clay as well! Whether you're a DC or Marvel fan, there's certainly something for everyone!
How to do Clay Art Making
Clay Art Making Workshop in Singapore teaches how to create fun things out of clay. You have to follow certain steps in order to make your item out of it.
Step 1: Get Your Hands Dirty
You will need to put your hands in water and clay. This is so you can feel the consistency of it, molding easier with any objects or tools available such as a knife for cutting up an animal sculpture that requires certain proportions; even fingers are useful when they're fully covered by moistened material!
Step 2: Apply Clay to a Form
To create the perfect clay sculpture, it's important to have a steady hand and some imagination. First, decide what form you want your final product in; then apply as much or little pressure onto the surface with any objects that will work- like hands for example! You can experiment until finding a just-right feel before deciding if there is still something missing from its shape.
Step 3: Bake It for Pottery
Some Clay Art making centers offer their own ovens, while others may have a separate place you can take your pieces to bake them. Baking is not just for decoration either, but also to strengthen the product's longevity and durability! If done properly after being baked in an oven or kiln, there should be no issues with it being fully functional.
Step 4: Admire Your Art Work and Bring It Home!
When you finish creating clay art, you can take it home as your own masterpiece for your collection. Or if you want to use the artwork rather than having it as a decoration, then go ahead and place it in the kiln/oven to bake it into pottery then bring it home after that.
There are many Types of Clay used in the Clay Art Making Workshop in Singapore:
Lithophane -creates a 3D image in light, usually by pressing the clay to look like a window reflection.
Pinch Pot – A pot made from two pieces of unequal weight clay put together. The heavier one is pushed into the lighter one, then both are molded together into shape, usually cylindrical or vase-shaped.
Terracotta – A type of earthenware ceramic that uses clays naturally rich in iron oxide to give it its distinctive natural red color.
Sgraffito – The pottery process in which areas of raised clay (the design) are scratched away to create an image below.
Pavé – A pottery technique and style in which a design is covered by clay putty, or slip and then decorated with small stones of different colors.
Slab – A flat piece of clay art made using a large rolling pin to flatten the material. No molds are used for this type of craft work.
There are many themes that we will be using for our Clary Art making workshop in Singapore. You can make sea creatures, a bunch of colorful flowers, your own little Zoo's animals, and fictional characters like Superheroes.
What are the benefits of attending this session?
Gather your family and friends for this fun-filled workshop where you can create one-of-a-kind pieces. You'll also get the chance to take home some art that is uniquely yours! You will make two items using clay. After the demonstration, you are free to work with our Experienced craftsman or create your own design. The instructor will then guide you through the protocol of shaping and baking your creations in the ovens. If time permits, participants can decorate their pieces further before returning home. Participants are encouraged to bring along items that they would like to be baked, which will be stuck onto one of the pre-made forms by EPIC's master craftsman (e.g cards, pictures, etc.) There is no limit on how much you wish to take home! Clay Art Making workshops in Singapore can boost your personal and professional skill sets. They allow you to explore new ideas and concepts in a team environment. They allow for healthy competition with colleagues and peers that help inspire creativity and innovation – resulting in more rewarding work experiences.
Take a break from the routine and explore a different type of activity. A new challenge or an ancient craft, workshops will help define you as a person in ways unimaginable. It enables individuals to learn new skills, discover hidden talents and build self-confidence. They can also be used for team-building exercises that strengthen teamwork and boost morale among workers. Clay Art Making Workshop in Singapore is beneficial for keeping your hand active. The clay can be used to make different shapes and objects. It will also help to develop the thinking skill of the individuals because they have to choose which shape is needed for making an object or any kind of craft work. When you use your hands for working with clay, your fingers will get strong and it contains lots of health benefits for finger joints too. It helps in developing the creative ideas within us which are required for getting expertise in arts and crafts works. In this process, there are numerous abilities needed such as smartness, imagination power, creativity, a mind set up good at art, etc. So people who want to learn all these things by doing it from childhood keep on searching about the best ways to do so because they are interested in getting more benefits out of it.
You can spend quality time with friends and family
Clay Art Making workshop in Singapore is a great way to spend quality time with your loved ones. If you are someone who enjoys the arts, this would be perfect for you. There are not many things that you can enjoy together with your friends and family than an activity like this. On top of that, spending time with your loved ones is really beneficial for all of you. Everyone benefits from the connection they make by communicating their feelings to one another. Activities like these help build relationships among family members, friends, and even during a date.
Clay Art Making workshop in Singapore is a perfect way for everyone to bond through a shared experience. Spend time resting and having fun over something as simple as clay art-making here at EPIC! You will love our Clay Art Making workshops especially if you have kids or grandkids at home! It's indeed a good way to spend quality time with them while teaching them how to make clay art! Clay Art Making will surely be a memorable experience for you. You get to learn about an artistic medium while spending time with your loved ones. And why not? Clay is something very easy to mold and manipulate, so it makes the activity exciting no matter what age category or gender you belong to. And best of all, clay cannot cost too much unlike other materials used in arts and crafts. It is perfect if you want to go out but don't exactly know what to do. People that are into arts and crafts also love doing activities like these because of the fun that they get upon seeing their final products. Just imagine all the very detailed designs you can put on your own plate made out of clay!
An important and meaningful gift that you can make is the opportunity to create something special for someone you love. You can make a special gift by creating something unique and treasured forever. The Clay Art Making workshop in Singapore provides you with great results, so it is a good gift for anyone and the experience begins with a demonstration. The art of making something unique and precious is all part of the experience. The first step to making pottery is mixing clay with water. This process is known as wedging, which can be done by hand or by machine. Just like ice cream, you need the perfect ice cream scoop for getting that creamy goodness into your bowl without spilling a single drop. Clay shovels are used to mix clay together before sculpting it into an item. These tools are useful in shifting wet clay around during the building process. If the shovel has really long handles, this enables artists to reach small areas from a safe distance away from those dangerous wheels! It's important to have those forms ready before the actual shaping starts since it will save you time and clay. Here's where the fun really begins, but you need to work fast! The time in which clay can be worked is very short; it starts off soft and squishy, then when you begin to add water, it becomes even softer and pliable. It will eventually dry out if not used in that window of opportunity. One tool that many use are a rib or wedge-shaped instrument that helps form the sides of an object without causing any indentations into the surface.
Conclusion
We hope that you will join us for this workshop and take the opportunity to spend quality time with friends, family members, or coworkers. Our experienced art instructor can provide guidance on how to make clay creations of all skill levels! Clay Art Making is an awesome way to spend quality time with friends and family. You can create beautiful artwork, which will be the perfect addition to your home décor. If you're interested in attending a Clay Art Making Workshop in Singapore then please contact our team.
For more enquiry on EPIC Workshops' Clay Art Making workshop, or any of our team building workshops, please contact us at contact@epicworkshops.com.sg.