What's the difference between our scented, soy and gel candles? In this article, we'll be sharing with you our main candle types and the difference, so that you won't have a headache choosing our candle workshops!
What is a Soy Candle Making Workshop Singapore?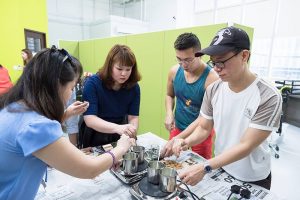 Participants at our Candle Making Workshop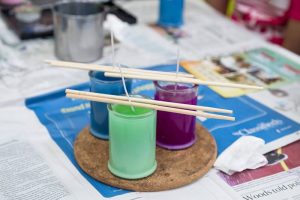 Basic Soy Candle
Soy candles are made using soy wax, which burns cleaner and they're extremely eco-friendly. Not forgetting that soy candles are a hit amongst our pastel-loving friends, as the base is pastel-y white in colour.
Basic Vs Advanced Soy Candle Making Workshop Singapore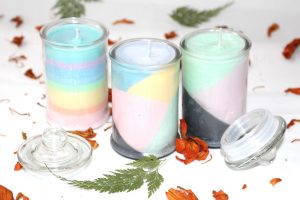 Advanced Soy Candle
Firstly, let me tell you more about the difference between our basic and advanced soy candle making workshops. For our basic soy candle making workshop, participants will be able to add in a colour and scent of their choice, hence the name basic, as only soy wax, a colour, and a scent is used. On the other hand, our advanced soy candle making workshop allows participants to learn layering techniques, hence the name advanced! Different colours and scents can be used to do the layering.
Now that we've learnt all about our Soy Candle Making workshops, lets learn about our Gel Candle Making Workshop;
What is a Gel Candle Making Workshop Singapore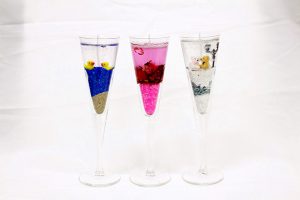 Gel Candle Wine Glass
Secondly, let me tell you more about gel candles. Gel candles are made using gel wax. As the nature of gel wax is clear and transparent in nature, participants will have the opportunity to customize their candles further using figurines and even dried flowers!
If you love customizing your candles by adding cute figurines and flowers, have gel candle a go!
Soy and Gel candles both have different benefits. What about EPIC Workshops scented candle making workshop?
What is a Scented Candle?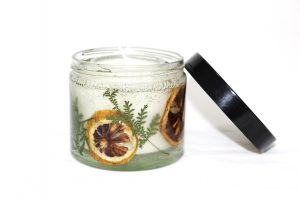 Scented Candle With Lid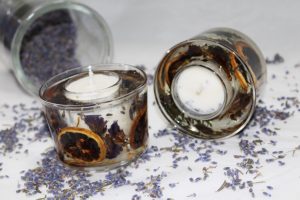 Scented Candle Without Lid
Lastly, let me tell you what are scented candles. Scented candles are made using two different types of soy wax, namely, gel and soy wax. Want to experience both soy and gel candle making? At EPIC Workshops scented candle making workshop, you'll learn the basics of soy and gel candle. This incredible duo allows you to experience best of both worlds – you'll get a pastel candle and at the same time a clear base for additional customization by adding beautiful flowers.