You might be wondering what a terrarium is? So before getting into this exciting terrarium team-building workshop in Singapore let's get the basics of it. A terrarium is basically a packed glass container in which living things like plants and soils are kept to preserve and observe. They are small and packed vessels to keep your plant secure. They are normally transparent glass. They are of two kinds one of them is Sealed Terrarium which has removable lids while the other one is Open Terrarium which has no lids it is closed. These terrariums are self-regulatory because they release water vapors primarily for recycling purposes and therefore they require little maintenance. They stay fresh and can be kept in places where there is very little natural light. Terrestrial plants cannot lie under the soil forever and therefore it is up to us to take care of them. How do you want them to be when they grow older? Do you want them to become great beings or would you like them to be wounded in spirit? The choice is yours. Terrarium team building can be an excellent activity to do with your group. It aims to give people the opportunity to face the fears and challenges they may face when it comes to teamwork, communication, planning, etc. Many of us feel that we are trapped in the walls we build and that we cannot escape. We cannot achieve greatness when bound by these boundaries. But great beings seek to break free from their ordinary lives and create a better one for everyone around them. Terrarium team building aims at taking people out of their comfort zone by getting them in an environment where they are free to express themselves, ask questions, and grow. Terrariums are good for us if we make the effort to understand them. They can teach us a lot about life and living. We have all heard it loud and clear that unity has strength, the more the people are, the more the task becomes interesting and fun and this is why the terrarium team building workshop is the best one can ask for. It is always better to work in teams if you want to be successful in life. It gives a great chance to improve yourself by learning from others. It boosts your confidence and energy when you are working with a team, and others learn from you. As a team, you help each other so that you win collectively. Terrarium team building is one of the best therapy ones can ask for. You break your monotonous routines to do something new and exciting, you get to know more each day. It keeps you going when you grow your own plants and enjoy the dance of nature. It is a lot healthier and stress-free to perform such tasks. Terrariums have been created since the 19Th century, Dr. Nathaniel Bagshaw Ward was the first English Botanist who created and invented the Terrarium. Now let's begin the details of why it is necessary to build a Terrarium:
Low Maintenance
The terrarium team building in Singapore encourages you to bring positivity into your life by taking care of your plant. It is obvious that no one has this much time to sit in front of a transparent glass container to take care of a plant. We are all busy in our lives doing our monotonous tasks of the day so here is thrilling news you've got to do nothing because this little world of plants turns out to be a mini-ecosystem for you where it releases gases and water to maintain itself. A closed terrarium won't damage the plants. You don't have to open it to let the fresh air go in but rather it will self-nourish itself with the help of water vapor and gas in it. You've no need to fear frost anymore because of this terrarium of yours which you can place anywhere, even on the sill of your windows. This is because these self-sustaining ecosystems won't grow too high so it doesn't matter where you keep them. And if somehow the water freezes inside the room it will not damage the plant. With time you can experience a garden where you take care of nothing, neither to prune nor water. Who doesn't like plants? Every one of us does because they represent life and thus are an excellent gift item for your special ones especially ladies love them even boys love them too. This gift is the best gift you can ever give your loved ones. They'll appreciate it for sure because of its beauty and oxygen production ability. Do not harm nature by purchasing plants that are not grown in plantations but rather go green with this artificial terrarium of yours which will grow new plants instead of cutting them off from their natural habitats. So next time when you go out for a gift item do not forget to buy a terrarium because it grows greener, healthier, and wealthier.
Have yourself a mini garden
This is one of the most satisfying things about the terrarium team-building workshops to do these days. Almost every human on this earth is stressed about something in life so in such circumstances having and building your own mini garden would do the trick. When you perform this task with some of your teammates it will become fun and stress-free for everyone. The best thing about this is it does not require much space and also you got this amazing idea to carry it anywhere, your office, restaurant, your bedroom or dining, etc. You can build it from scratch isn't this enthusiastic. You will need a box in which you can build up with a lid according to your comfort. For instance, if you want to use this greenhouse as an indoor pot, you should cut the side parts using a sharp knife. A plastic bag is also needed where you can place soil and seeds in it and apply water on top of it. You can also use a candle to light up the place if there is no sunlight. People have tried this in their balconies and very few even inside their houses it will work but most people suggest that every time you want to water your plant you should open it from the top so that excess water does not damage your greenhouse, keep on doing it so you can see your plant growing. If you have a garden you should not worry about any of these things because it is an easy task if you know what to do and how to do it, but even for those people who don't have gardens, they must try this for fun because this will become a small practical thing which can give them fruitful results at the end.
Relatively cheaper than other planting activities
Planting your own garden can be quite expensive as you would require gardening tools as well as gardening supplies to ensure that your plants grow well. However, if you're a beginner who would like to try planting for fun, try making yourself a terrarium! The materials used are relatively cheaper as compared to purchasing gardening items.
Preparing your own garden is extremely expensive these days and most people do not have that budget to afford it, also it requires a lot of gardening supplies and tools to make sure your plant is getting all pampered or not. Therefore the terrarium team building in Singapore helps you to grow your own little garden, You don't have to spend much money to build it like a gardener and it is relatively inexpensive hence some stuff will do the magic. You can add things on your own terms. Some people like to add a little artificial LED light to brighten it which makes it really fascinating. Building a garden is very easy especially if you are creative. Try to search for some cheap stuff like old pool tubs or even water barrels that can do the trick. Then grab an artificial plant and see how far your imagination will let you go.
They are super easy to make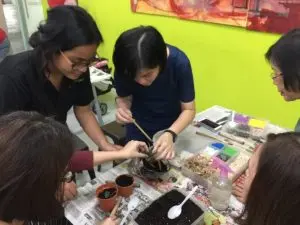 Suitable even for beginners, terrariums are super easy to make! Especially in this day and age where almost everything can be found on the internet, yes you guessed it, there are tutorials online that can help you make your very own terrariums! If you need a little help from the experts, come join our public terrarium teambuilding workshop, or gather at least 5 participants for us to conduct a workshop just for you! For more details, do drop us an email at contact@ecoponics.com.sg
It's time to add colors to the monotonous shades of life, where almost all of us are so busy on social media creating our own little space and taking for granted the little things in life. The terrarium team building workshop in Singapore is especially for the couch potatoes who want less stress and less workload. Creating your own terrarium is probably one of the easiest and less arduous activities to do. You don't have to do much effort, it's a simple and fun process mainly if you do it with a bunch of people. It does not require you to water them. It will be in a close container away from all efforts that a gardener makes. If you don't know how to make it then there are few best tutorials available on the internet but if it does not help you we are always available. You can contact us and we will guide you through and explain all the processes for making a terrarium. It's Healthy: Not just your kids but every one of us actually misses the fun activity of playing in the sand, building sandcastles is very satisfying right? You don't have to do that anymore with sand art ideas because it does not require any sand. You can make beautiful art with the colored sands and it's even better if you do this like your kid with a bunch of them, because kids love creating anything on their own rather than doing it from someone else. It is an excellent activity that doesn't only provide fun but provides peace as well since kids will be concentrating on building something rather than screaming and running around.
They are so versatile you can change them whenever you want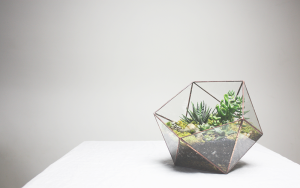 If you're the kind of person who gets bored pretty easily, a terrarium is just right for you! Terrariums are so versatile that you can change them whenever and however you want! All you would need is actually some tutorials on unpotting and repotting your plants, as well as some inspiration for your next terrarium!
If you have a vibrant personality then it is obvious that you won't stay with the same thing forever. You would love to change it no matter what. Therefore, the terrarium team building workshop in Singapore, my friend, is just for you! You can change it whenever you want since it is versatile, you get bored with one, make a new one and change it. There are many plants that you can add to the vessel to create it for instance; ferns, carnivorous plants, dwarf plants, air plants, etc. Some of these plants are very difficult to grow in other places so it is a great opportunity to grow them in your own little terrarium. It's not easy to grow many plants in dry air so a closed container is the best thing for it. Not only that, it is a great way to recycle old stuff you have lying around your house. A little imagination can turn your terrarium into an outstanding piece of art. Believe it or not but yes! Most of the people are very playful and they love creating things on their own, give them a chance to do that and they will never disappoint you. Plants attract most of the people in the world, you grow your own plants and it gives really good vibes. It shows nature and spreads optimism everywhere. It is indeed so helpful to be around nature all the time. You feel safe and secure and especially full of life.
Final Words
For terrarium team building you need a bunch of your friends and some other stuff. You need a glass jar that could be of any nature, it should have enough space to put a little plant into it. If it has no lid it's okay some plants can grow in open lids as well. Now select the appropriate plant for it. Use the right tools, place the small pebbles to set their base, now add some soil and a potting mixture, now put your plants in it and add your magics. Be as creative as you can to make it look charming so that you can carry it anywhere. You can use those colorful markers to make a pattern on the soil or you can even decorate it with rocks, dead leaves, small pebbles, and many other things which can allow you to enhance any type of terrarium. It's best if you choose a container that allows you to see all around instead of a closed vessel because when you see the complete creation of yours it will be even more beautiful.
This article highlights the importance of having your own little gardens that can do wonders in your life. If you want to make your own mini garden and want to beautify it you are always welcome to join the Terrarium team building workshop in Singapore. We will give all the necessary details required to make a terrarium perfect. We encourage you to build a team that will make it much more interesting for you to work on your project. For details, you contact us. Enjoy your day!
To engage us for a Terrarium Making / Terrarium Team building Workshop, kindly drop us an email at contact@ecoponics.com.sg. Do state the number of participants and the date you are looking at so that we can do a soft booking for you.