The fact that I managed to sit on my desk, to be able to physically type this out goes to show that I survived. In fact, all of us did survive, thankfully!
As you might have already known, EPIC Workshops conducts workshops and sell terrarium supplies. Even readymade terrariums for gifts, or wedding favours. The last time we were given such an assignment was two weeks back, where we did about 260 egg terrariums in a week. This time around, we did 400 egg terrariums in a week and let me tell you, it went quite aptly with our name. EPIC.
400 egg terrariums. How did we all do it? So it started off with us looking through the glass eggs. We unwrapped one egg at a time, and used newspapers to wipe the eggs clean thoroughly, making sure that all of it shines. Following that, we did the first and second layers first. Although we had ample time to complete the terrariums beforehand, we were afraid there were issues that might surface (i.e soil's too dry, plants die even before putting into the terrarium). So we had no choice but to leave it closer to the delivery date.
Three days before, we started mixing the soil in house. As the soil was moist, we had to ensure that it dries before putting it into the terrariums as moist soil might cause the terrariums to grow mould. After which, we added the soil and compressed it. Drew holes for all 400 eggs. Since we're unable to plant the plants beforehand as it was too risky, we did everything else we could – wipe the top of the eggs, paste our client's logos on each of the individual paper bags.
Thanks to Spotify for giving us the entertainment we need during this process! We played our favourite songs in the office and jammed along together. As the saying goes, "The more we get together the happier we'll be." I definitely resonated along with that saying as I felt that our team bond together as we worked as a team to ensure we complete our client's orders.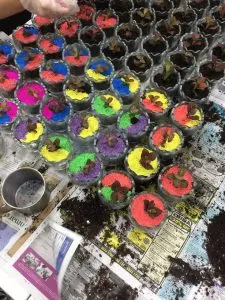 Two days before the delivery date, we planted the plants and decorations were in place based on our client's request. Colourful terrariums! Of course, the terrariums had to be aesthetically pleasing, so our boss did a QC (quality check) on all the terrariums before we packed them. We ensure that our clients get the best quality terrariums they deserve! To motivate us even further, Ivan, our boss gave us all a pizza delivery treat for dinner! #bestbossever.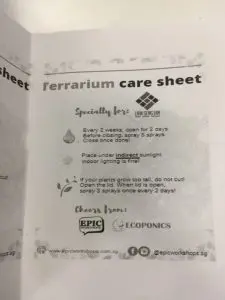 A day before the delivery date consists of the finishing touches! We ensured all of the terrariums are secure, had a care sheet each, and there were no missing things. We packed them in the boxes and loaded them into the van. Mission accomplished within a week!
To sum it all up, surely doing up 400 egg terrariums in a week is pretty tiring, having to juggle our packed schedules of workshops, desk works and all. But nothing beats the satisfaction of completing of what seemed like a daunting task to do! We had a lot of fun doing the egg terrariums and we hope that our clients at Lian Seng Heng loved them too. 🙂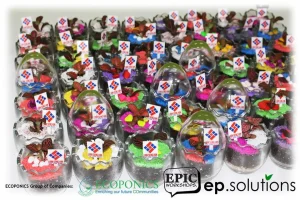 To purchase our terrarium workshop/supplies/ bulk orders or ready-made terrariums, feel free to contact us at contact@epicworkshops.com.sg or contact us at (+65) 6355 0329 / (+65) 8150 8866.