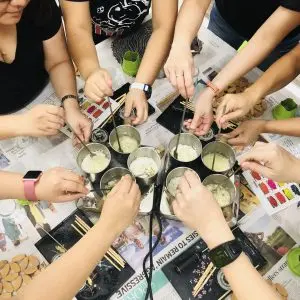 How does EPIC Workshops' Advanced Soy Candle workshop allow participants to engage in a team bonding session? In this article, we will outline some of the key highlights that will encourage team bonding amongst corporate clients and participants through a fun session of Advanced Soy Candle Workshop.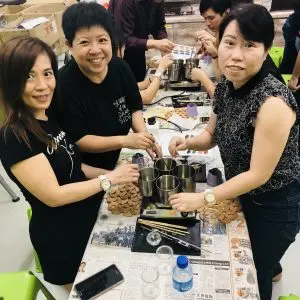 "Team bonding candles makes use of common equipment to facilitate team bonding and sharing. "
Participants will first start off the session by emptying packets of soy wax into their metal cups for heating. During this process, participants will be using a common burner as each burner can hold up to 4 cups at a time. While melting their respective candle waxes, participants will tend to interact with their tables. This interaction will then result in team bonding.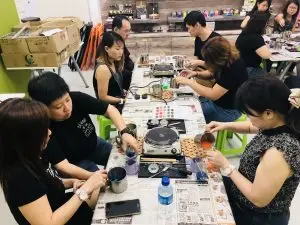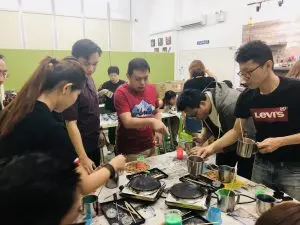 "Communicate with other colleagues to get your materials. "
Once the candle waxes are melted, each participant will be given their colour wax of choice. Desired colours are then added to their mixture of melted wax. The first layer of wax should be set aside to cool and it will take time to solidify before adding in the next colour! While waiting, this is where the highlight is! Participants will have to get their colours from other colleagues, so they will have to communicate amongst one another and share.

The end product: A Myriad of Colours, all thanks to teamwork and sourcing of colours from your other table mates.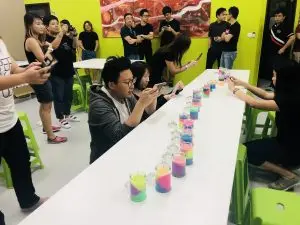 Picture Perfect: Your layered candles are so pretty that they're glam for the gram.
Participants are encouraged to take photos of their masterpieces and a team photo at the end of the session. Come tag us at @epicworkshops.sg on Facebook or Instagram and get a chance to be reposted. 🙂
Come join us for team bonding / team building workshops today! Both indoor and outdoor workshops available. For more details on our advanced candle workshops or other workshops, do not hesitate to drop us an email at contact@epicworkshops.com.sg or contact us via Facebook Messenger at www.facebook.com/epicworkshops.sg
---
Related tags: Team Bonding Candles, Team Building Workshop Singapore, Workshop Singapore, Craft Workshops Singapore, EPIC Workshops.