On the 3rd of December 2017, as part of the Chinese Development Assistance Council (CDAC)'s Back To School Carnival, we held our Pyssla Beads(Perler Beads) Keychain Making session as one of the many fringe activities there at Nanyang Junior College.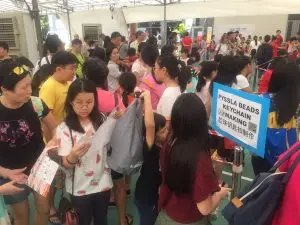 This fringe activity attracted many children (as well as their parents!) who made a beeline to our booth after getting their snacks. The long queues simply did not deter or put off most of them, instead, they called their families and friends to join in the fun!
The Process
At our booth, we gave participants templates as a guide for them to create their own design. We also gave them a mixture of pyssla beads of different colours for an added challenge to find their colour of preference. These pyssla beads are done on top of a plastic board, in which they would then complete it and handover the ready pyssla beads for ironing.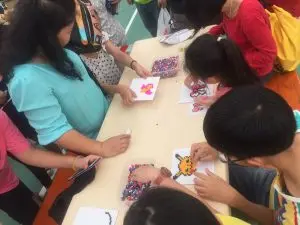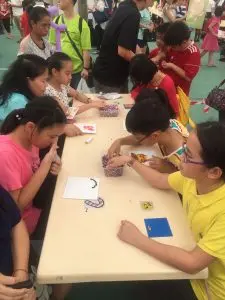 Psylla Beads Making
At the ironing booth, participants got to see their pyssla beads "sticking" together to form a solid piece. Afterwards, the solid piece is left to cool for a while before the insertion of keychains.
Although it might seem like an easy task, some participants decided to take it to the next level. Instead of using the templates as a reference image for them to follow, some chose to use their creativity and imagination to form their desired image for the keychain. Some however, took their own initiative to search up for other templates online to suit their preference.
Some felt like it was an easy task. Thus, this allowed the participants to do more than one keychain!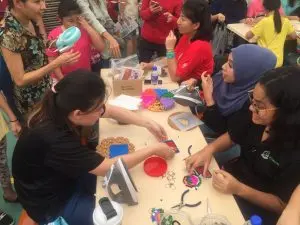 Though we were there for 7 hours, time flies as we were busy throughout, ensuring every key chain was completed. Though we were tired at the end of the day, it gives us a sense of satisfaction to see the participants' smiles on their faces!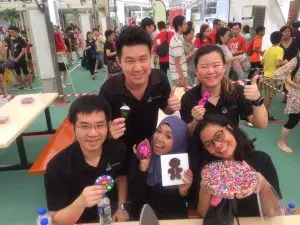 All in all, we had a great time and we hope that the participants did too! Apart from Pyssla Beads Making, we do have other varieties of fringe activities. To engage us for Fringe Activities for your events, do drop us an email at contact@ecoponics.com.sg! We hope to hear from you soon!