Were you ever caught off guard by valentine's day? Stumped at what flower arrangement is best for your loved ones? Or what some common flower arrangements mean? Here is a list of common arrangement patterns that will make your next trip to the florist much easier.
Fan shaped
The fan shaped arrangement focuses on the volume and the size of the arrangement. The design is made primarily to display the flowers in an outward position (much like a fan) with the leaves at the background. This design is meant for flowers with long stems and use primarily for entrance decorations.
Elliptical
The Elliptical flower arrangement is used to highlight the flowers of brighter colours, often used to showcase the allure of the flowers. They are most commonly presented as bouquets and given as birthday presents!
Vertical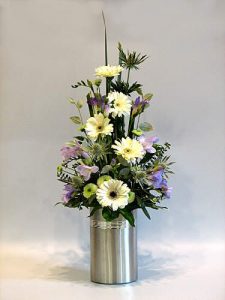 This flower arrangement is catered primarily to flowers with longer stems and draws the attention to the different shades of flowers used. This arrangement is by far the most commonly used due to the simple and beautiful design. Often given as gifts, like on Valentine's Day.
Horizontal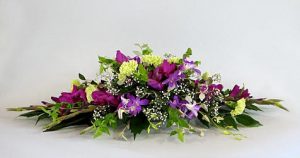 The flowers are arranged in a zig zag fashion horizontally. This is also an extremely common flower arrangement. Unlike the vertical arrangement, the horizontal arrangement uses flowers with strong scents, such as Jasmine. This arrangement is often used as gifts, much like the vertical arrangement.
Triangular
This arrangement is triangular in nature (as suggested by the name). The stems and branches of the flowers are trimmed and there is a prominent flower in the middle to form the tip of the triangle. This arrangement can come in the form of a bouquet or a display. It is often given as a gift for special romantic events.
Crescent
This flower arrangement is used as a gift to symbolize a joyous event such as a baby shower. This arrangement is usually done in a basket. The flowers are designed in a 'C' shape and the bottom is often filled with glossy leaves and stems to brighten up the basket.
'S' shaped
The 'S' shaped flower arrangement, much like the 'C' shaped, is given primarily as a basket to symbolize a happy event. This particular arrangement is often given as a house warming gift or as a decoration to brighten up the place. They are extremely huge in nature and makes use of leaves to puff up the design, providing a sense of glamour when placed.
Oval
The oval shaped design is often used as a decorative piece and used to beautify a room or a hallway. This is often done because of the bushy nature of the arrangement that gives a rich, filling aura to where it is placed.
Cascade
The Cascade arrangement is used primarily for wedding related occasions, such as a wedding ceremony or a wedding anniversary. This is often seen as the main feature for a wedding gown and widely accepted internationally.
There are literally endless combinations when it comes to flower arrangements. Every single design is personalized for the situation! We hope this list can make your next trip to the florist an easier one! If you need more information, drop us an email at contact@epicworkshops.com.sg