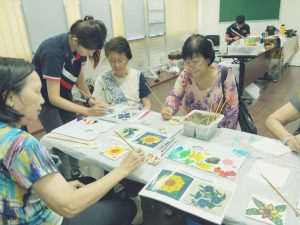 Our in-house artist guiding the ceramic tiles painting workshop for Seniors
Tiles Painting Workshop for Senior Teachers in Singapore. As part of Teachers Day celebrations, Epic Workshops held 2 different fringe activities for the event at MOE Heritage Centre. One of which is our popular Ceramic Tiles Painting Workshop for Seniors. Through this activity, participants can bring the finished tiles home as a paperweight, personalized coasters and many more.
This workshop for seniors is catered to allow the seniors to express themselves via art – through drawing and painting. Not only is this therapeutic, it also helps them to get creative as they draw freely without any reference. Nonetheless, we have also prepared some reference images for those who would like a guide to complete their own versions of our samples.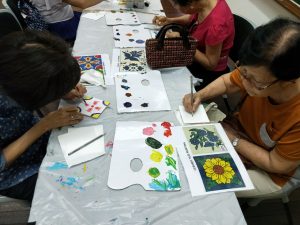 Following closely to the reference images – Tiles Painting Workshop for Seniors
For our Ceramic Tiles Painting Workshop for seniors, we introduced various tools that participants can use such as assorted paintbrushes, different colours of acrylic paint, pencils, erasers and a palette. These tools are common tools to encourage interaction between the senior teachers, eventually widening their social circle.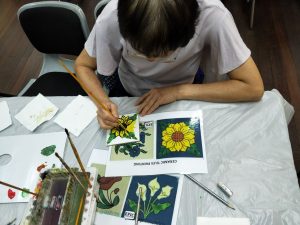 Some seniors could do this activity on their own without guidance! Suitable Workshops for Seniors
Another activity, Clay Figurine Making was also held at the same venue. More on that in our next articles to come!
Interested to engage us for a workshop? Drop us an email (contact@epicworkshops.sg) with the date, venue and number of pax and we will send you a quotation.
For more workshops, visit our website over at www.epicworkshops.com.sg